As founder & president of Still Financial LLC, Joe has dedicated over 32 years advocating for his clients in the areas of wealth creation, growth, and distribution.
Helping clients navigate the complexities of the wealth planning arena is Joe's mission, and tailoring individualized solutions to meet his client's goals is his passion.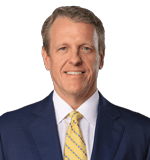 Born and raised in Nacogdoches, TX, Joe entered the financial services industry in 1988 after earning a double Bachelors degree in Accounting and Finance. Joe believes in volunteerism as shown through his presidency over the Pineywoods Association of Insurance and Financial Advisors, the Nacogdoches Jaycees, the Nacogdoches Youth Baseball Association, and the Dragon Athletic Booster Club. He has served as an advisory board member of BancorpSouth, and the East Texas Blood Center, and is currently the alumni chair of the Chapter Advisory Board of the Texas Nu Chapter of Phi Delta Theta Fraternity. Joe is the past board chair of First Christian Church, where he also serves as an Elder. He and his wife, Jill, are parents of three active sons, who introduced him to his favorite pastime…youth coaching. Joe has coached over 30 different basketball, baseball, and football youth league teams over the past 15 years. Across the community he is proud to be affectionately known as "Coach" to hundreds of young men. It is with this same passion to lead others that he has built Still Financial.
The purpose of saving money is what? Eventually, you want to spend it. Should we focus on how to maximize accumulation or how to maximize distributions?
Without understanding wealth distributions, you will likely pay the highest taxes of your life, for the rest of your life